section board for academic year 2017/2018

Section President
Michaela Podolinská
My name is Michaela. I´m 24 years old and I´m student of Marketing Communication at University of St. Cyril and Methodius, Trnava . I became a member of ESN in February, 2016. I started my ESN career as a buddy and now I´m President and also Event Coordinator. I am proud to be a leader of such an amazing team as is in ESN Trnava. ESN has changed my life completely. I met a lot of people, I have friends all over the world and I improved my English. I live my small Erasmus dream here. If you want to know more, feel free to contact me.

 
Vice- President
Michaela Tuska
My name is Michaela and I study Ethnology at the University of Ss. Cyril and Methodius. I'm a Romanian living and studying in Slovakia. My first encounter with foreign students was at an event organised by the ESN section in Nitra. After that I decided I want to join this wonderful organisation and help foreign students have the best Erasmus experience of their life. I'm an active member of the network since 2015 and I'm looking forward to many more years as a member of the Erasmus family.

Local Representative
Stanislava Vojteková
My name is Stanislava and I am currently working in office. I was studying Political Science at the University of Cyril and Methodius. After my first Erasmus experiences in Vilnius, I suffered from Erasmus Post Syndrome and that's why I decided to be a buddy. It was a chance to be in touch with an exchange students from over the world and mainly to help them with their staying in our beautiful country. It is the best way how to get to know new people, their culture and lifestyle. I am part of ESN Trnava since March 2016. I started my work there as a Treasurer, then as a Buddy Coordinator for UCM and now, from May 2016, my position is Local Representative. I became also active member of ESN Tallinn during my second Erasmus in Tallinn. Being an ESNer is a great opportunity not only for personal growing, but the biggest benefit is to spend amazing time with awesome people. Smiles and happiness of Erasmus students are the most valuable reward which you can get from them as a result of your work. If you have any question, don't hesitate to ask me ;)
Fundraiser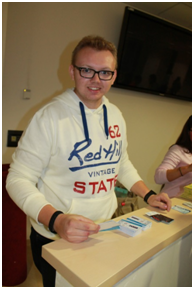 Martin Vanya
My name is Martin, I am 26 years old and currently I work for big logistics company.I studied  management at University of Žilina. My ESN career started in section ESN UNIZA in October 2014. When I look back, it is definiely the best step I´ve ever made.
After short time in this section I got an opportunity to study and live in South Korea for certain time. You know, when I came back I felt, that something is missing me. I wanted to still meet new foreigner people, talk with them and have fun. The best way how to have all the advantages and pleasures was to continue in section which belongs to University of Žilina. Unfortunately every story has the end but fortunately every end mean a new beginning. After my study in Žilina I moved to my hometown, Trnava. Since September 2016 I am proud member of ESN TRNAVA and since January 2017 I am on position Partnership and Fundraiser Coordinator.
"ESN is not just a group of people, ESN is a family"